EDIT: Hey, click the image below. Come on, do it! How awesome is that?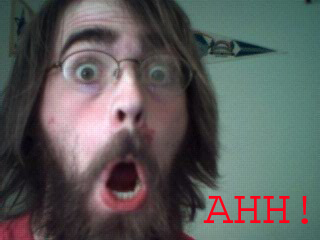 Everything below this line is simply a long winded message describing the fact that I'm loving how people are leaving comments on Shyzer again. I'd love to say I write for some altruistic reason, but deep down I'm just another attention whore. 😛
In an effort to add a little thank you to all the people who take the time out of their day to comment on Shyzer, I sat down tonight with the goal of adding a "Recent Comments" box to the sidebar. In it, I want to show the last 7 comments left here on Shyzer. Why? Well, for starters, a lot of people go back and make comments on posts a few days old and I wanted to make sure other people saw them. I also wanted to stick in an added bonus for anybody with a site of their own, as their name would contain a link to their site.
However, in the process of doing all this, I discovered that WordPress widgets aren't retardedly stupid like I'd previous thought. Instead, they're pretty damn awesome. As a result, the sidebar will look goofy for the rest of tonight as I properly style each default widget that WordPress comes with. Why would I care if the widget's look decent, even if I don't use them myself? Because I want to one day release this theme as a free WordPress theme for others to download 🙂
And yes, since I've spent a few hours teaching myself how these widgets work (and more importantly, how to freaking style them!), this totally counts as today's post.